What are the recommendations for managing multi-language projects?
If you have a multi-language website to monitor or have dedicated subdomains for different target locations, you might come up with a question - how to manage all of the data within SEO PowerSuite tools? 
There is a simple answer - create a separate project for each version of your website or subdomain and focus your SEO efforts on each part individually. However, this would also provide you with separate reports, that you need to combine afterward (probably with the help of external tools). 

If your domain has several language versions that are arranged either as subdomains or sub-directories - this is not a problem. 
Rank Tracker will be able to track positions and pick up your ranking URLs for any domain version.
Website Auditor has the ability to scan subdomains as well.


SEO SpyGlass allows collecting backlinks for domains & subdomains together, specifying the URL a backlink leads to. 

Below you will find a few scenarios that you can incorporate into your workflow. 

Scenario #1: 
- https://example.com/en -> English
- https://example.com/de -> Deutsch
You can create a project for a top-level domain and arrange the data by groups and tags, which would allow you to keep all of the results in one place.

If you need to take a close look at a particular language version (isolate the results), you can create a separate project as well (there is no limitation on the number of projects you can create). 
Scenario #2:
- https://www.example.com/ -> English
- https://de.example.com/ -> Deutsch
Same as with scenario #1, you can create a project for a top-level domain (https://www.example.com/), the data for your subdomains will be still monitored and correctly associated with the collected results. 
Scenario #3: 
- https://example.com/ -> English
- https://example.de/ -> Deutsch
With this scenario, you would need to have a separate project for each language version in SEO PowerSuite tools, as these are considered different domains. 


However, for Rank Tracker, there is an option to still monitor all of the rankings in one place if the list of major keywords is the same for all your website versions. You can create a project for one language version of your website, then go to Preferences > Alternative URLs and add the rest of the language versions as alternatives: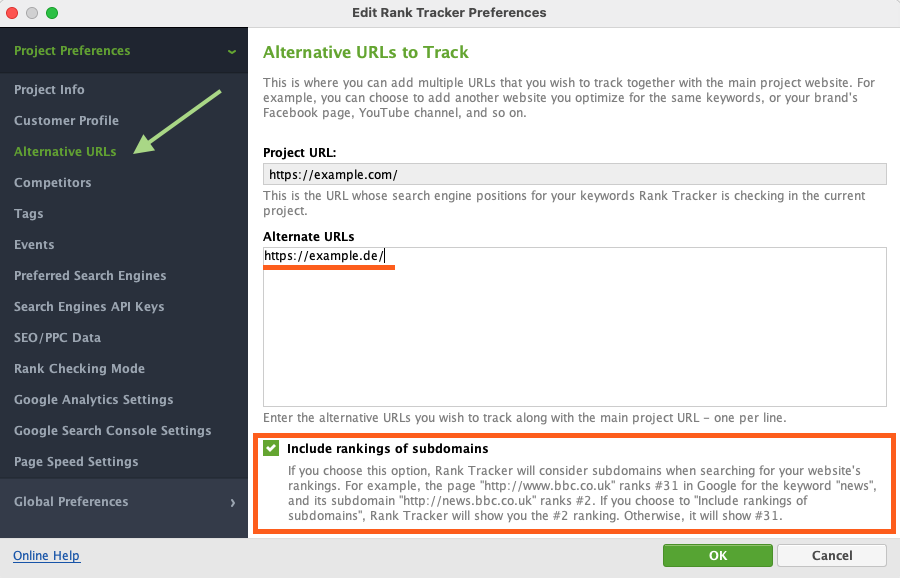 You can also then refer to Preferences > Rank Checking Mode > and enable the 'Track multiple results for keywords' option to see if there are any keywords that pages from different language versions of your domain rank well for.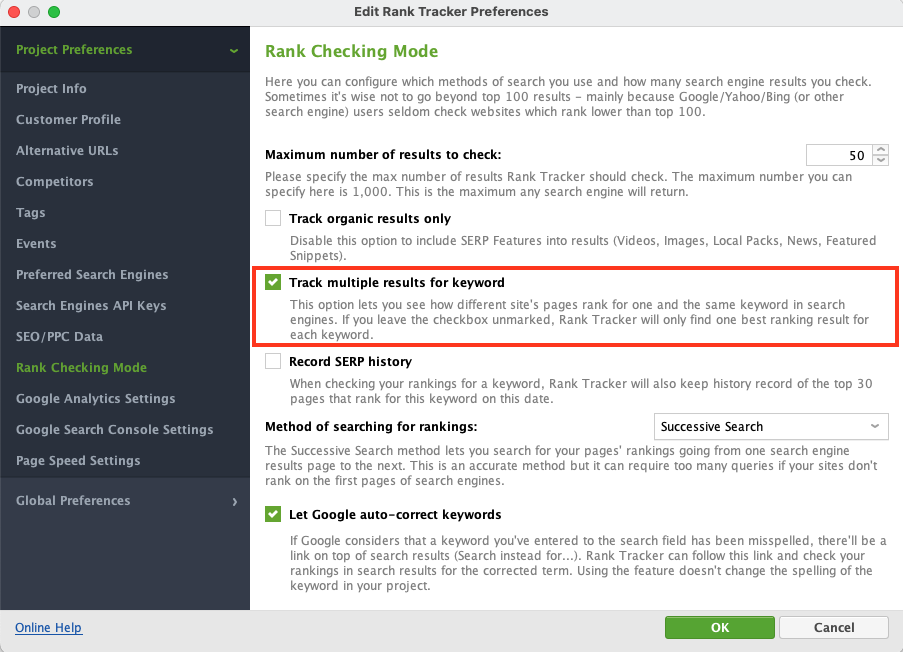 For Rank Tracker you might then set up custom search engines to track your target local rankings, and additionally organize your workspace to have a dedicated view for different locations.