How to automate tasks in my SEO PowerSuite?
SEO PowerSuite are desktop-based apps that require all project tasks, jobs and activities to be initiated by the end user. Unlike in online-based applications, where your results are updated automatically in accordance with your subscription plan limits, in SEO PowerSuite apps a user has to start a respective update or a rebuild task manually to see their project populated with fresh data.
However, within the applications you are given a possibility to automate certain tasks, so that when managing multiple projects a user will not need to open each project separately, but can update multiple projects within a single job.
How to create an automated task?
Task automation is handled by the Scheduler feature. Scheduler provides a possibility to robotize the following types of jobs:
Update project data;
Export (in Enterprise version only);
Report publishing (in Enterprise version only);
Project rebuild (in WebSite Auditor & SEO SpyGlass);
To create a scheduled task open the application you need and navigate to the Preferences menu - Scheduler & Alerts - click + icon to create a new task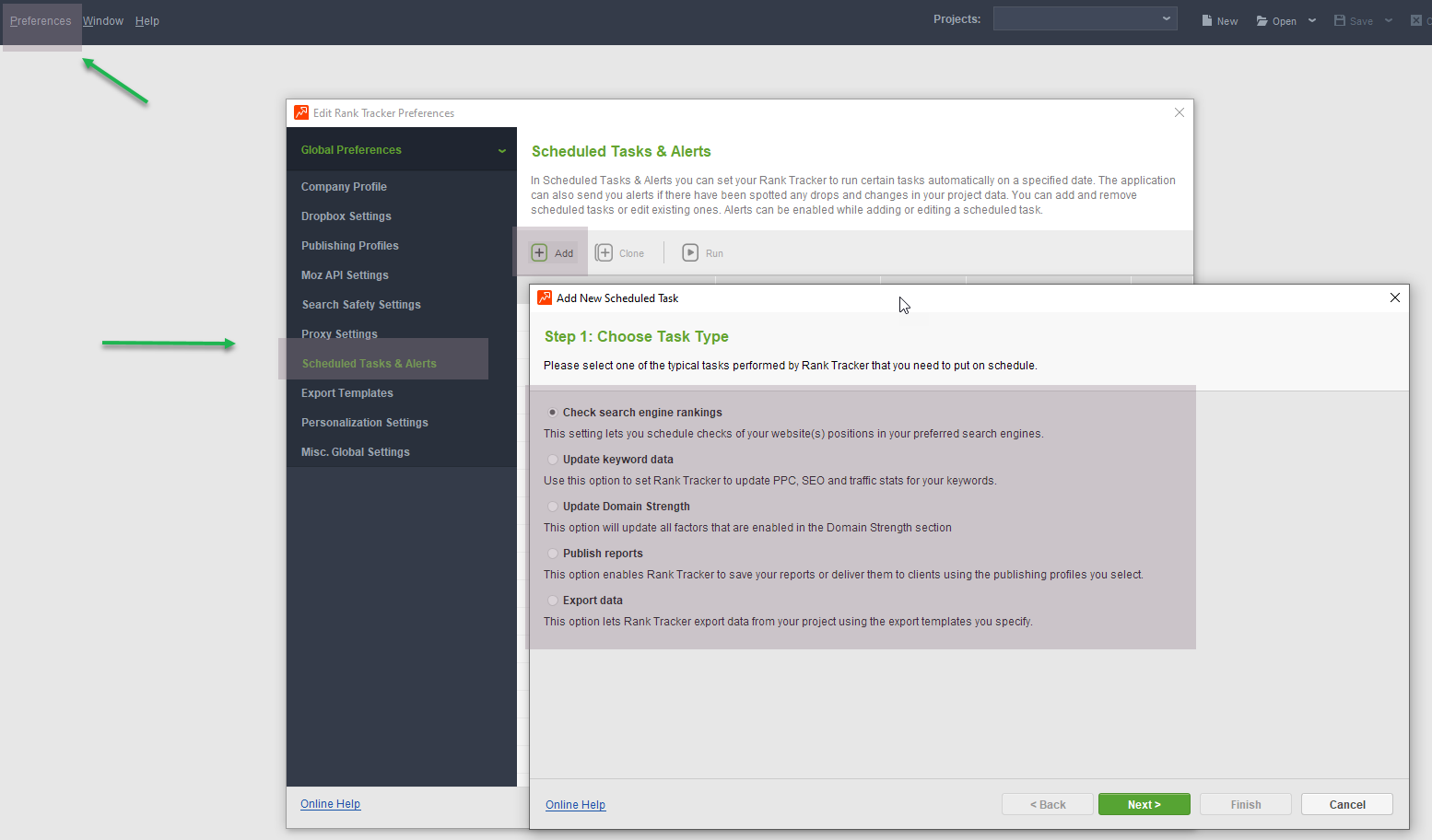 Then follow the steps of the setup wizard where you can specify the project files that should be involved, timing settings and alert conditions. You can read the full guide about managing scheduler settings in this article.
Automation FAQ
Can I automate project creation?
No, a project can be created only manually. A user has to input the address of a website to start a project, this type of task can't be automated.
Do I need to keep the software running?
Yes, you should keep your computer switched on and the software should be running in background to be able to execute your scheduled tasks.
How can I move my scheduled tasks to a different computer?
Scheduler settings are global settings which are stored in property files. Check article how to move global settings to a different machine.
How do I check the status of my scheduled task?

The status of each task is displayed under the Preferences menu:


For tasks that are being executed, you can check the progress via the Task Manager:



To verify if any errors or issues happened, check the task log in Scheduler preferences