This error message means that access to www.link-assistant.com is temporarily unavailable on your computer. As a result, the SEO PowerSuite tools cannot function correctly and get automatic updates from our server.

The issue won't take long to eliminate. You need to find a special system file titled "hosts", open it in a text editor (e.g. Notepad) and remove a line from it.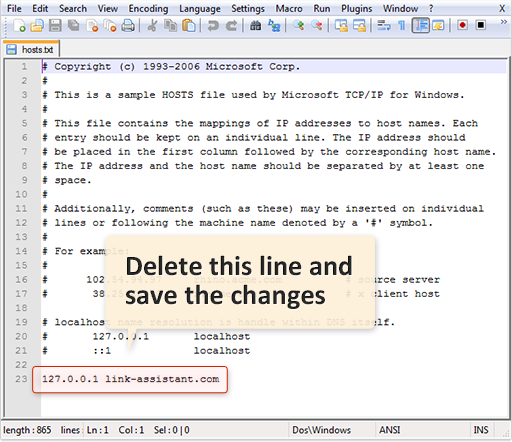 The location of the "hosts" file varies depending on the operating system. Please see the table below for instructions.
Windows

Open your Start menu.
Choose "Computer" from it ("My Computer" on Windows XP).
Go to this folder:
Local Disk (C:)\Windows\System32\drivers\etc\hosts

Mac OS X

Open the Terminal. You can access it through the Finder (Applications -> Utilities -> Terminal) or use the Spotlight search.
Copy the line from below and paste it to the Terminal field:
sudo nano /private/etc/hosts
Type in your password if the system prompts you to do so.

Linux OS

Start your terminal emulator.
Open the file in your favorite text editor (e.g. vi, gedit, or kate):
sudo vi /etc/hosts
After this is done, please restart the software and the error message will be gone.

Please email us at support@link-assistant.com if you have any questions.