Software auto-update won't complete (or gets stuck in a loop)
SEO PowerSuite apps automatically check for available updates each time you launch them. Whenever a fresh version is released, the apps start the auto-update process - download and install the latest version. At times, the auto-update may not go through or get stuck in a loop. Below are the most common reasons and solutions:
Not enough disk space
Please make sure that you have enough free space on the hard drive where SEO PowerSuite apps are installed.
No Internet connection
Please make sure that your internet connection is active and stable with no interruptions:
If you're using a VPN on your PC, make sure to disable it temporarily
If you have a proxy set up in the app under Preferences > Proxy Settings, disable it as well and restart the app anew
The software is being blocked by an antivirus, Firewall or other protection apps
In some cases, SEO PowerSuite apps may be treated with suspicion by your antivirus or Firewall. If that seems to be the case, check your AV/Firewall settings and make sure to:
Remove the apps from Quarantine
Restore the software's .exe files if needed
Add the files below to the Exception list in your AV/Firewall settings:

javaw.exe
ranktracker.exe
seospyglass.exe
websiteauditor.exe
linkassistant.exe
Insufficient user permissions
To complete auto-updates successfully, the software must run on behalf of the PC Administrator.
On Windows, either right-click the app icon and choose Run as Administrator, or set it to default: right-click the icon and go to Properties > Compatibility tab and adjust Privilege Level, then click Apply: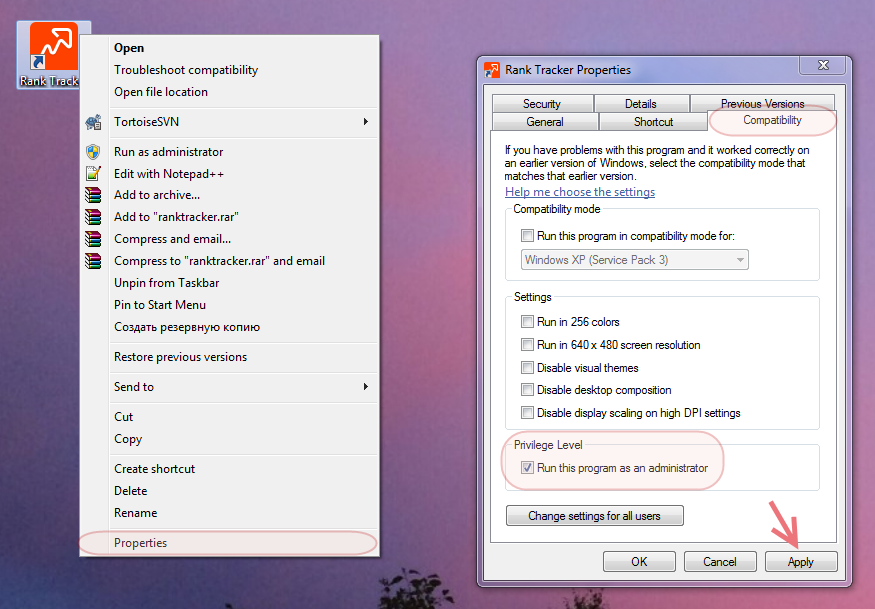 On MacOS, make sure your current User is allowed to administer your Mac. Otherwise, grant admin privileges and restart your Mac.
Spyware programs
Some spyware programs block the software from connecting to the Internet. Test your hard disk to be sure there is no spyware installed - you can use any free anti-spyware tool found on the web.
Properties corruption
In some rare cases, the issue may be caused by the software's properties files corruption - this may happen upon updating the apps from a version too old, or after an incorrect/unexpected shutdown.
In such cases, it may be necessary to delete the properties file and let the apps generate new ones automatically.
Note: properties files contain your Global Settings (including Scheduled Tasks, Publishing Profiles, custom report templates), and the license details - these will be reset if you delete the files, and you'll need to enter the details/adjust the settings anew.
The files are:
.ranktracker.properties
.websiteauditor.properties
.seospyglass.properties
.linkassistant.properties
It's crucial to close the apps completely first (you may end/force-quit the Java tasks through Task Manager). Find .properties files for each of the apps, and delete those:
Windows: C > Users > %username%
MacOS: Home > %username% (files are hidden by default)
Linux/UNIX: ~
Once you start the apps anew, the new files will be generated automatically, and the auto-update should complete successfully.
You may also download the latest version of each app manually.