What is the difference between a local pack and a map search?
With Rank Tracker, you can track most of the SERP features alongside regular organic results. One of the SERP features you can monitor is Local Pack.
And after seeing the results in your Rank Tracker workspace, you may ask - what is the difference between Local Pack and Google Map, and how can I view both to compare?
Google Local Pack returns results within a small geographic area, making it easy to find nearby businesses. It reflects the data from Google My Business listings. It is also typically triggered by you clicking on a local pack result.
Google Local Pack is part of Google local search. For example, when someone types in "plumber in New York" or "plumber near me", it draws data from several sources, including Google and third-party reviews, Google My Business listings, and business websites.
You will see these results when performing a standard Google search and then clicking on one of the local pack results.
When Google Local Pack is open, it gives you a map with multiple local business listings. These results cover determined businesses alongside relevant information to be evaluated by you.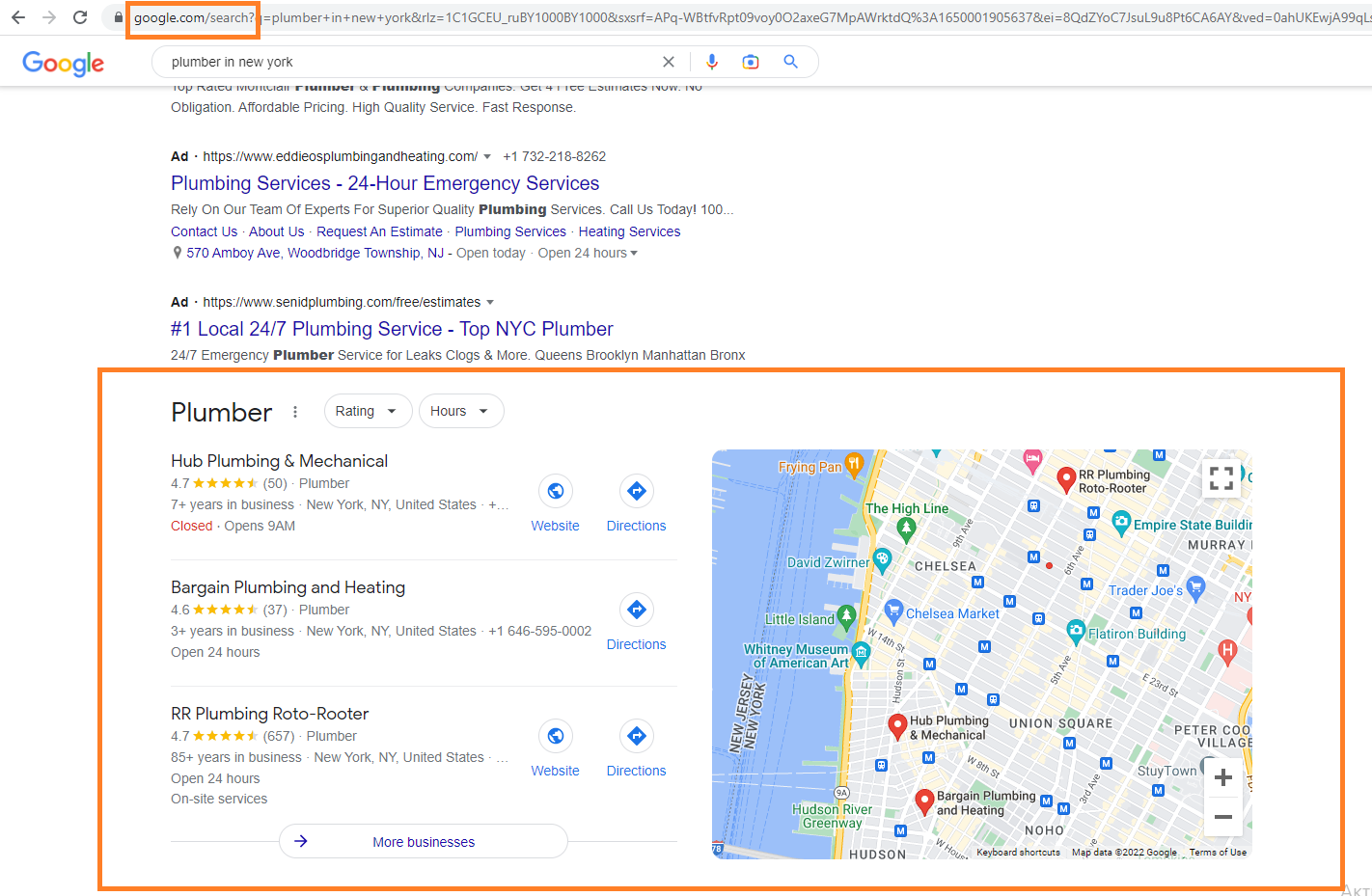 Google Maps takes a broader approach to results and is not as focused on a small geographic area. We usually see Google Maps as a tool that can help us plan our journey and find services such as gas stations, hotels, and restaurants en route.
Google Maps also draws its ranking data from Google My Business content. When it comes to rankings in Maps, Google will prioritize the results by relevance, proximity, and prominence.
The overall appearance of Maps is similar to Local Pack. The primary difference is the area of coverage. Maps shows a much wider geographical zone.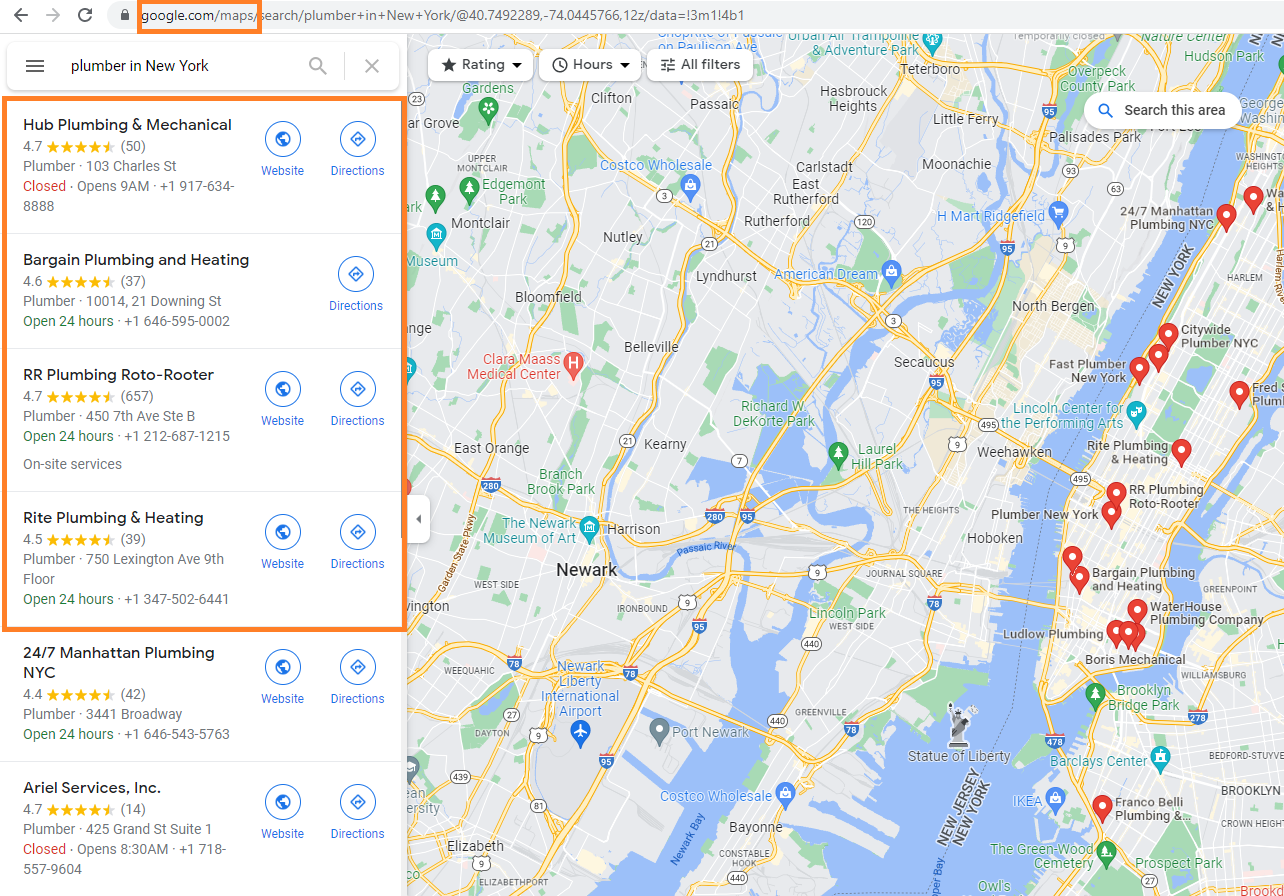 In short, Maps are for broader searches, while Local Pack is useful when there is a specific intent to find a determined type of local business.
How to monitor the rankings from Local Pack and Google Maps in the Rank Tracker?
Google Maps
To start tracking precise rankings from Google Maps, you'll need to select Google Maps as your targeted search engine.
Go to Preferences > Preferred Search Engines and select either general Google.com (Maps) or regional (ex. Google.co.uk (Maps), Google.es (Maps)).
You may also add a custom search engine and narrow down the geographical zone.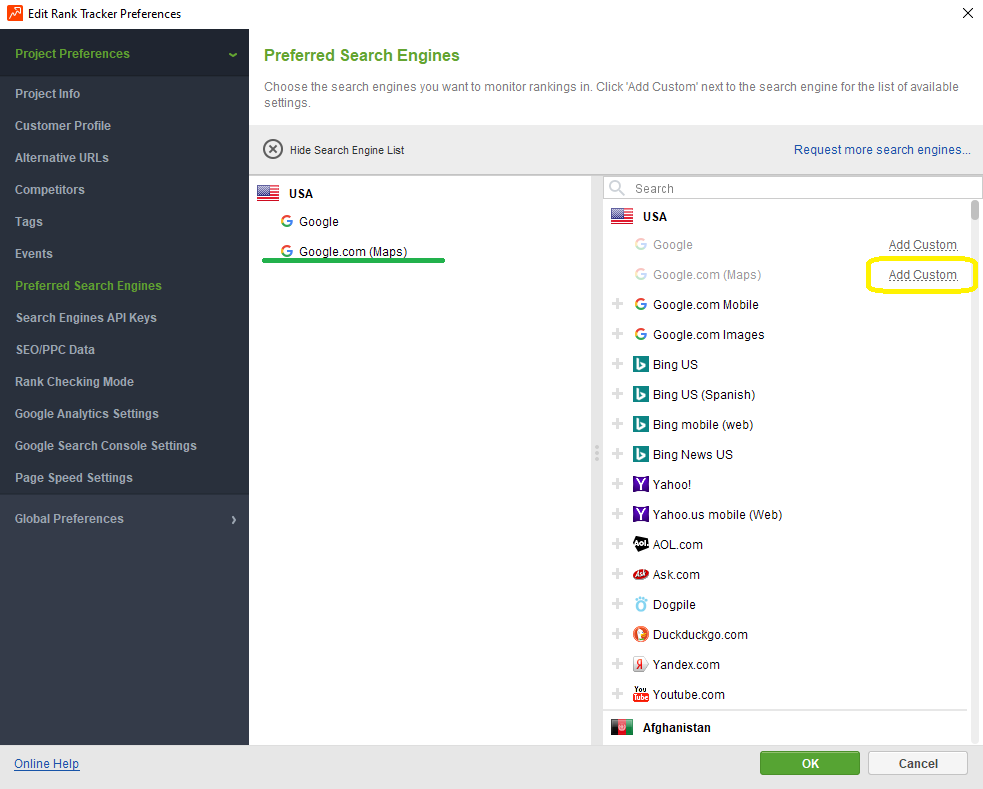 Local Pack
To view results from Local Pack you would need to refer to the SERP analysis feature, which is enabled in Rank Tracker by default.
You can check if it is on for your Rank Tracker project by going to Preferences > Rank Checking Mode and making sure that the Track Organic Results Only box is unchecked, and the Track Multiple Results for Keyword box is checked.
When this is done, refer to Target Keywords > Rank Tracking module. Please double-check if you have added the required columns to your workspace. You can achieve this by clicking the 'Edit visible columns' button: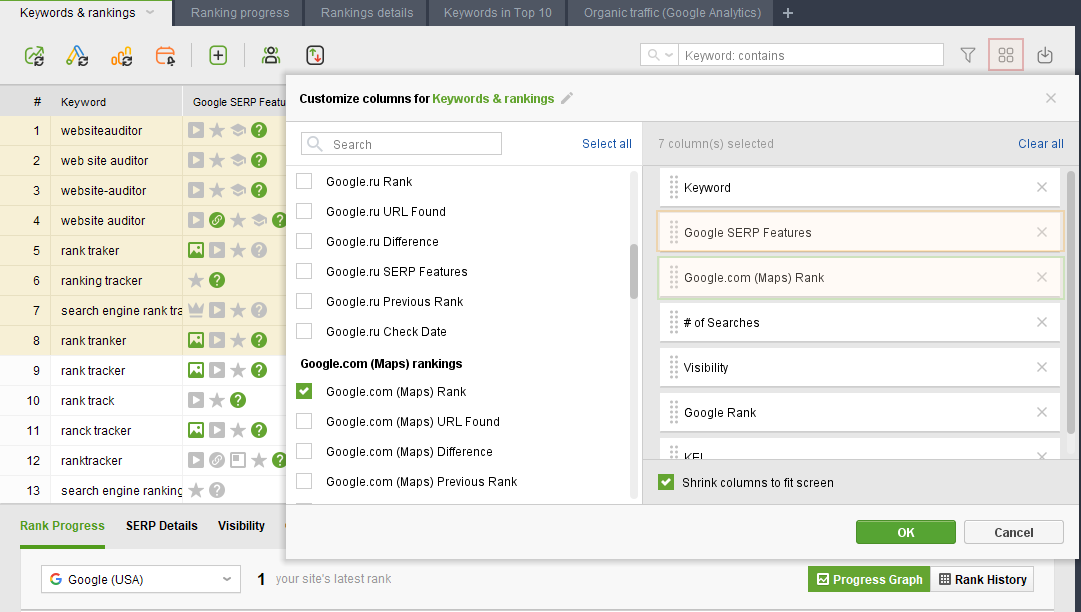 Results from Google Maps will be seen under the 'Google.com (Maps) Rank' column (or under a column with your regional Maps search engine). Results from Local Pack will be seen under the 'Google SERP Features' column, if any are found they will be highlighted in green: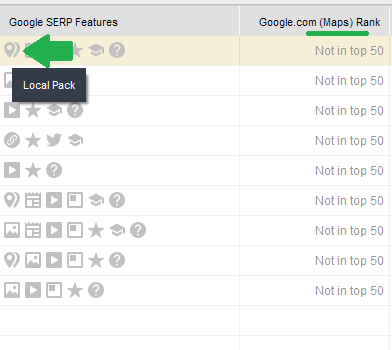 Additionally, if any keyword got high rankings within Local Pack section on Google this would be indicated under the general 'Google Rank' column with a corresponding label:

It is important to remember that although Local Finder and Maps appear to be similar, Google treats them differently due to the difference in user intent we mentioned above.
When it comes to rankings, there is no official confirmation that Google treats Google Local Finder and Google Maps differently, yet a causal search will show you that they do.
Ranking highly on Local Finder does not guarantee similar visibility in Maps and vice versa.