No Internet Connection Error
You may receive this error with any of the SEO PowerSuite tools.

The first step - is to check your Internet connection (especially with Wi-Fi and public networks).
If you suspect other ('not obvious') reasons, below you will find a few easy-to-check troubleshooting steps to get you started:
1. Proxy Settings
Check if you have enabled the software to connect to the Internet via a proxy server instead of using the default Internet connection.
Head over to Preferences > Proxy Settings either disable the use of proxy or click the 'Check' button to verify whether the specified proxy address is valid: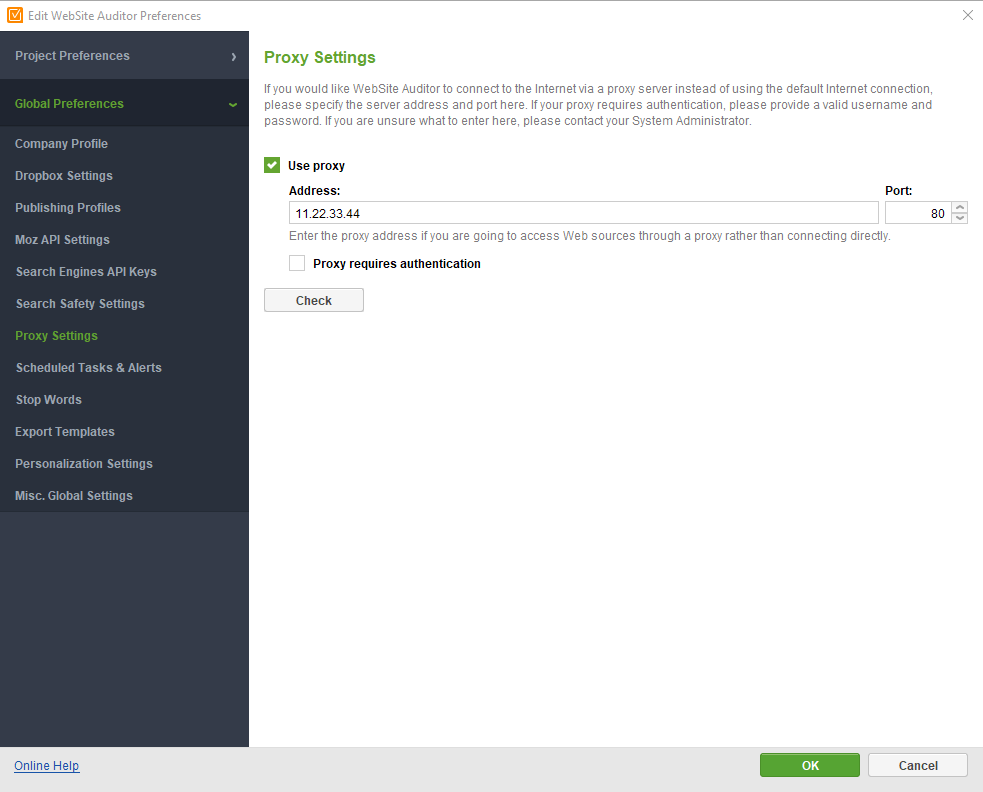 2. VPN
If you are using a VPN to mask your IP, please check whether you can access external resources with your new IP (check random websites in your browser)
Alternatively, disable your VPN temporarily.
3. Antivirus/Anti-malware tools
In some cases, SEO PowerSuite apps may be treated with suspicion by your antivirus or Firewall. If that seems to be the case, check your antivirus/Firewall* settings and either disable it temporarily or make sure to:
- Remove the apps from Quarantine
- Restore the software's .exe files if needed
- Add the files below to the Exception list in your antivirus/Firewall settings:

javaw.exe
ranktracker.exe
seospyglass.exe
websiteauditor.exe
linkassistant.exe
*with Windows, check the Defender app as well.

4. Reinstall the software to the latest version
If you have followed the above steps to no avail, please download and install the latest version of our tools through the links given below:

Rank Tracker
WebSite Auditor
SEO SpyGlass
LinkAssistant
Reach out to our support team
You have tried all the steps given, but the issue persists?
No worries, you may submit a ticket to us through our Help & Training portal or simply send an email to support@link-assistant.com.
We'll do our best to get back to you as soon as possible!