How do I re-run failed tasks in SEO PowerSuite?
At times, some of the tasks you run may fail or partially fail due to the incorrect application setup or some interruption in the middle.
However, SEO PowerSuite apps are equipped with the Caching feature that allows you to re-run the tasks and only fetch the data that hasn't been fetched without re-checking the records that have been updated successfully.
Cache feature can be found in each of the apps under Preferences > Misc Global Settings.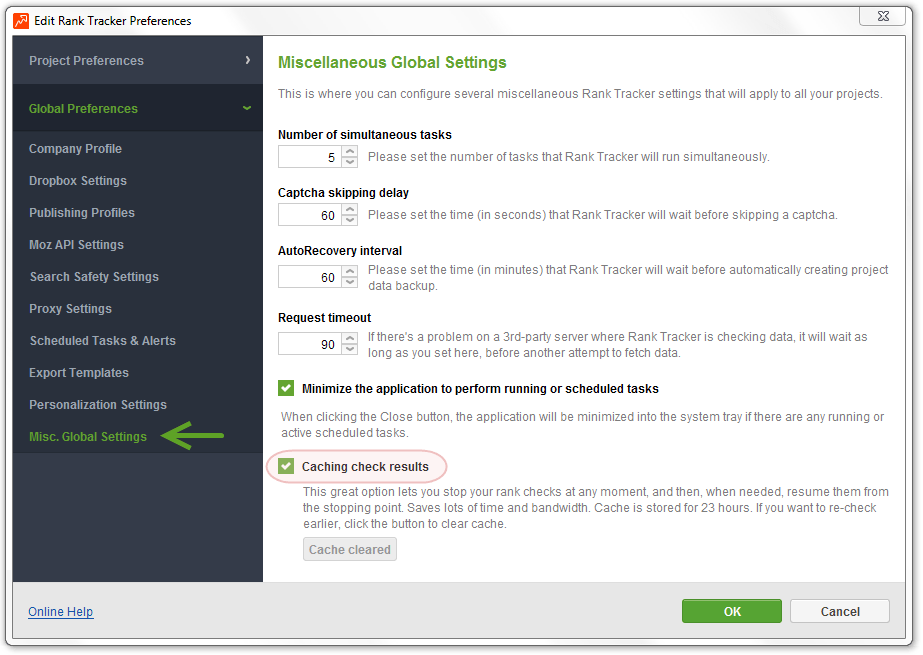 How does it work?
The results are being stored in Cache for 23 hours after the check.
Let's say you are checking rankings for a project of 50 keywords, and the check gets interrupted in the middle: if Cache is enabled, you don't need to manually sort out 25 records that were not checked successfully. You may just select all 50 keywords again and run a new check - 25 successfully-gathered results will be instantly taken from Cache, only the skipped records will be re-checked saving you half the time.
What data is being cached?
All of the SEO PowerSuite apps are caching the results of the checks that go directly through search engines (to prevent unnecessary load on those):
Rank Tracker saves the results of the ranking checks for keywords to cache
WebSite Auditor saves Cache Dates in Search Engines for pages
SEO SpyGlass saves Cache Dates in Search Engines for backlinks
LinkAssistant saves Cache Dates in Search Engines for backlinks and Pages Indexed in Search Engines for prospects
All the 4 apps save Number of Pages Indexed in Search Engines (Domain Strength)
How do I clear Cache?
Cache can be cleared manually or disable the feature at any time - this won't affect the data gathered and saved to your project.